Best Of France {January 2021}
Lingerie Francaise's edit of the latest cool things made in France
Firstly, a Happy New Year to all of you fellow French lingerie lovers! Our best wishes of health, happiness, and dreams of lace.
The start to the year has been anything but chill, we'll admit, what with the mutant viruses and staged revolutions. But stars can't shine without darkness, that's a fact.
So if you look very carefully, stare quite intently, you will catch a glimpse of a few gems that actually shine dazzlingly and manage to brighten up our days.
This is Lingerie Francaise's edit of the coolest, albeit non-essential, but absolutely critical to our mental well-being, things we've seen out of France in January:
The most decadent desserts by French Pastry Chef Cédric Grolet
Cédric Grolet is a star in France. He is the Executive Pastry Chef at Le Meurice, a splendid palace hotel located in the heart of historic Paris. But most importantly, he revolutionized the concept of dessert in a country where dessert is Queen, and that is no small feat.
Cédric is known for creating desserts that have a likeness to the fruit from which they're made, which is both poetic and oh my goodness, delicious! Imagine ordering a lemon dessert and getting exactly that, a dessert molded in the shape of a lemon and filled with lemony gooey goodness! The same goes for the figs, the strawberries, the hazelnuts… Grolet offers on his menu. Cracking the shell and watching the dessert ooze out of itself is nothing short of hypnotic. Just promise us you'll go there next time you travel to Paris.
Tiny purses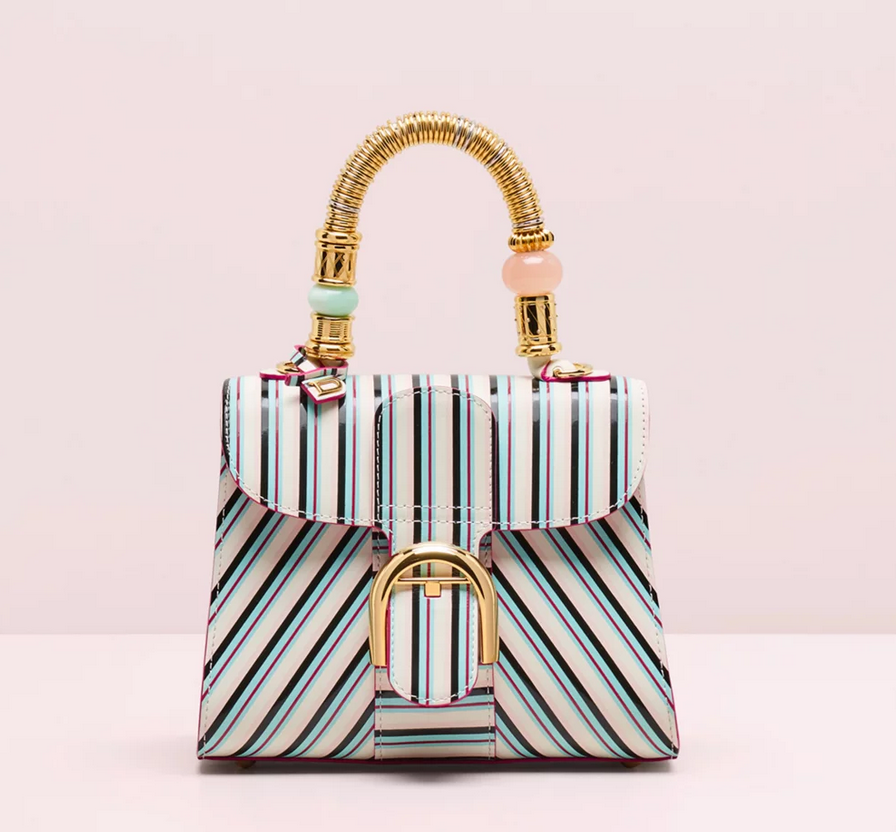 France is now enamored with tiny purses. If these are words you never thought you'd hear, we're right there with you! Contrary to popular opinion, not everything in France is small. It is true that the French favor smaller portions of food (that pack a punch) and often refer to the popular proverb "the smaller, the cuter". But this is most often in reference to gold jewelry… or feet.
As far as purses are concerned, the French have generally aired on the side of mid-size luxury brands classics, or oversized bohemian bags that can contain everything we need, everything we don't need, and all the poodles we're known to own but don't, actually.
These mini bags might be small, but they are mighty. So much so that the French edition of the Marie-Claire magazine wrote an
article
about the value of these nanos, and that the infamous Galeries Lafayette department store dedicated an entire
section
of their e-shop to making us see just how much (and how many) we need mini bags in our lives.
LUPIN
A French series, the second most popular title on Netflix US! Who would have thought?! 2021 is decidedly full of surprises already.
For those of you who don't know this… Arsène Lupin is a classic French book series written by Maurice Leblanc starting in 1905 and composed of 17 novels. It tells the tales of Arsène Lupin, a gentleman thief and master of disguise who, much like Robin Hood, often is a force for good while operating on the wrong side of the law.
In newly released Lupin by streaming giant Netflix, French actor Omar Sy puts a new twist on this classic tale by playing a modern version of the gentleman thief, a son of immigrants living in modern Paris seeking to avenge his father's death at the hand of Parisian muggles.
Watch it, it's delightful.