Once Upon A Time In The French Countryside
When Louisa Bracq goes full on 80's to introduce their latest collection
Once upon a time, two women escaped the bustling city to spend some time in the French countryside. They went on long walks, cooked simple but tasty dinners together, shopped at the local boutiques and talked for hours. They shared breakfasts, stories and clothes.
This is the story Louisa Bracq decided to tell us to present their Spring/Summer 2020 collection. The French lingerie house - known for its savoir-faire in corseteering and embroidery handmade in France - went full throttle on the 80's in their latest campaign.
They creatively flirted with "kitsch" without ever falling into it, and the result is just gorgeous; and a tad nostalgic, too. Presented through a series of scenes taking place in a modest house, in a modest town, the brand centered their message on authenticity and interactions between these two women in their daily life, who all the while are of course wearing the stunning new Louisa Bracq collection.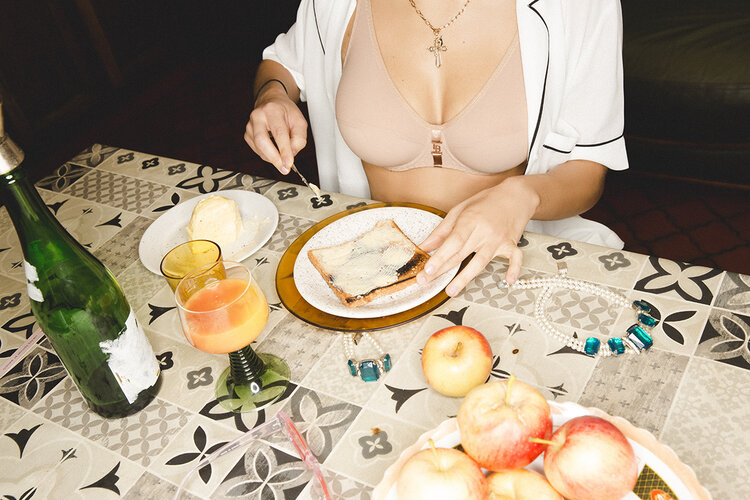 Jodie
. As in La Foster, who inspired this very line made especially for women who seek simple, sleek, classic elegance. Louisa Bracq understands that "back to basics" and "less is more" can be an incredible source of power. Here shown in nude.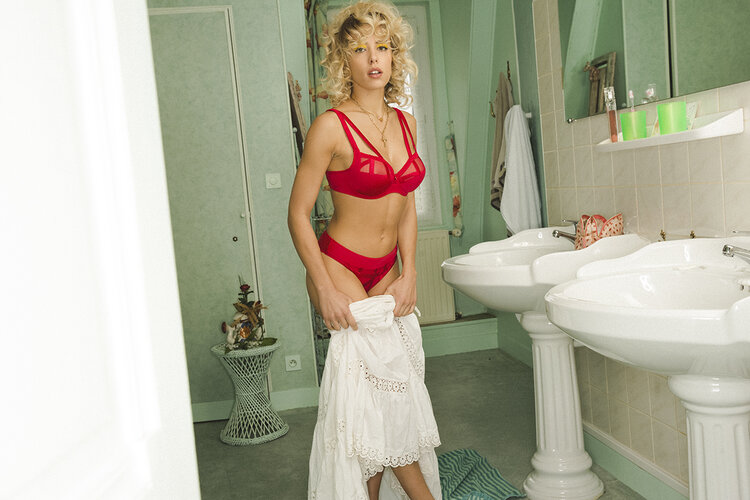 Rouge à Lèvres
("Lipstick") series with its geometric leather strap embroidery. In a delicious bitten lip shade of red and a knit so silky it's unparalleled to the touch, it is seduction to the max. Wear it under white for full effect.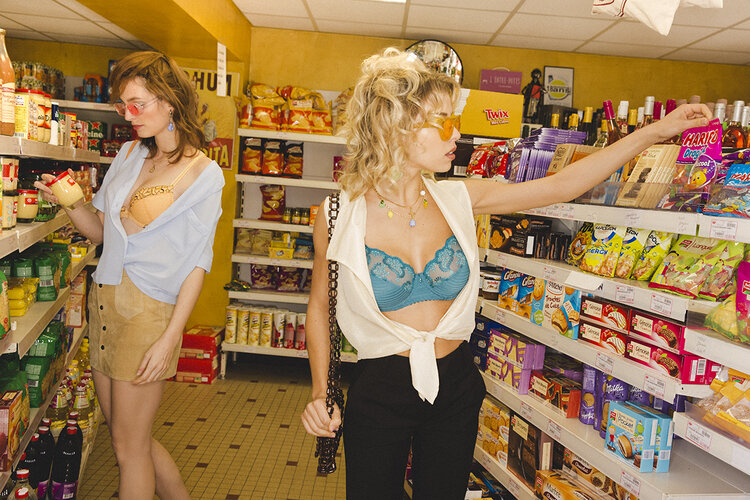 Elise
has come out as a monochromatic jewel in a new color,
Lagon
("Lagoon"). Its leafy pattern and a color reminiscent of shallow waters in a dreamy lagoon make this line a resonating call for the outside, which we hear loud and clear. Elise is an everyday indulgence we certainly don't feel guilty about.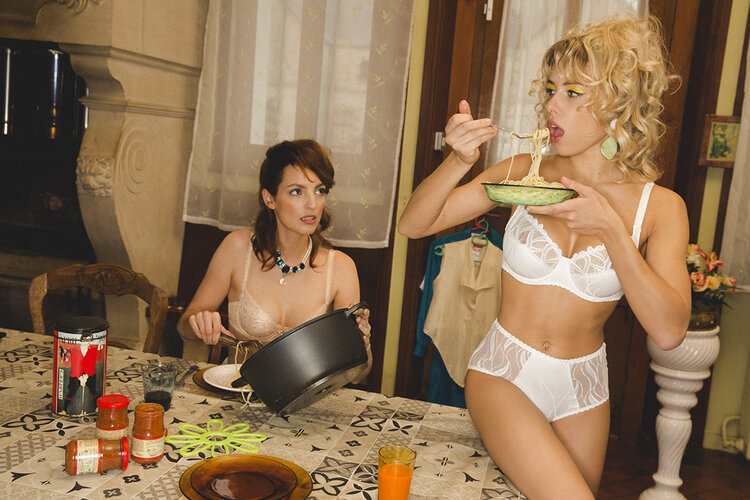 Julia
Nacre
("mother of pearl" - shown on the right) is the epitome of what Louis Bracq is about: making a product of quality comfortable, supportive and easy to wear for every woman. That's you, that's me, that's all of us (eating the pasta), feeling snug and breezy in our everyday life and everyday lingerie (without sacrificing the aesthetics might we add).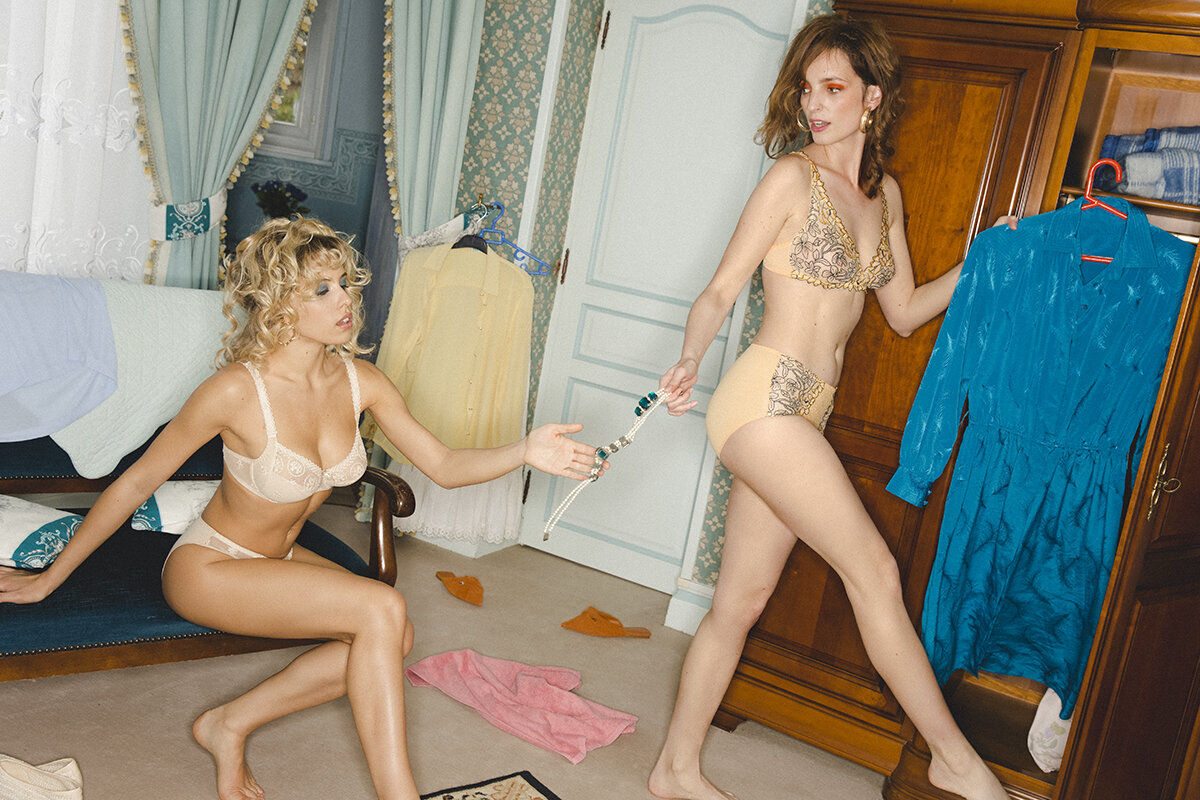 When two French women put together a fancy party for themselves (and themselves only) at the country house.
Chantilly
Sable
("sand" - shown on the left) is elegant and would be perfectly neutral if it weren't for the hint of shimmer given by a neon green iridescent thread. It's in line with the usual timeless approach of the House, but with a bit of a wink if you will ;)
Does
Infinite
Mandarine
("mandarin" - show on the right) also want to come out and play? Well yes it does! A light spirit, Infinite and its floral pattern are an endless source of fun, and the very first wireless bra to be available as part of a Louisa Bracq collection.