The One With The French Lingerie
What Would The Girls from The 90's Sitcom Friends Wear If They Were Into French Lingerie?
Friends premiered twenty-five years ago and to those of us who used to watch this iconic sitcom on its first run, this anniversary will make you gape in disbelief that time has gone by so fast.
The conversations might be a bit dated but the appeal lives on and continues to entertain fans of all ages. Rich with classic quotes - "How you doin'?", "Pivot!" and "We were on a break!" - Friends might very well be one of the very few things in this world all generations finally agree on and "isn't that just kick-you-in-the-crotch, spit-on-your-neck fantastic?"
The fascination is real. Who didn't dream of living in New York City in a lofty two bedroom on minimal income? And please, raise your hand if you
didn't
end up with a version of the "Rachel", the most unmanageable hairstyle of all times - which by the way, Jennifer Aniston hated. Moving right along.
Throughout the seasons, we've witnessed the trio - Phoebe, Monica and Rachel - being creative with style, some we jived with less than others (denim overalls overdose!). But what about what lies beneath? We at Lingerie Francaise couldn't help but wonder: if the girls from Friends were into French lingerie, what kind would it be?
Phoebe "I wish I could, but I don't want to" Buffay
Sweet-natured Phoebe is the eternal optimist of the bunch. She likes to see her glass half full even when it wasn't always. Despite the hardship, the zany blonde with an offbeat wit and a crazy running style packs a punch. "A little more than just a pretty blonde girl with an ass that won't quit!" - though she is that too - she emerges from the six some as a bomb of self-confidence.
Rife with complexity, Phoebe is the Friends' equivalent of Rachel's infamous English trifle: each layer has its own distinctive flavor; and while they don't necessarily make sense together in a traditional way, the final product actually tastes good! Phoebe doesn't follow any recipe in life or love. She truly marches to the beat of her own Smelly Cat song, and we love her all the more for it.
On the outside, she's all maxi skirts, oversized sweaters and accessories to the max. But underneath, we imagine she favors second-skin garments, eclectic prints, and lingerie that feels like she's wearing nothing at all. After all, Phoebe's lingerie should also be ultra comfortable. She's very bendy!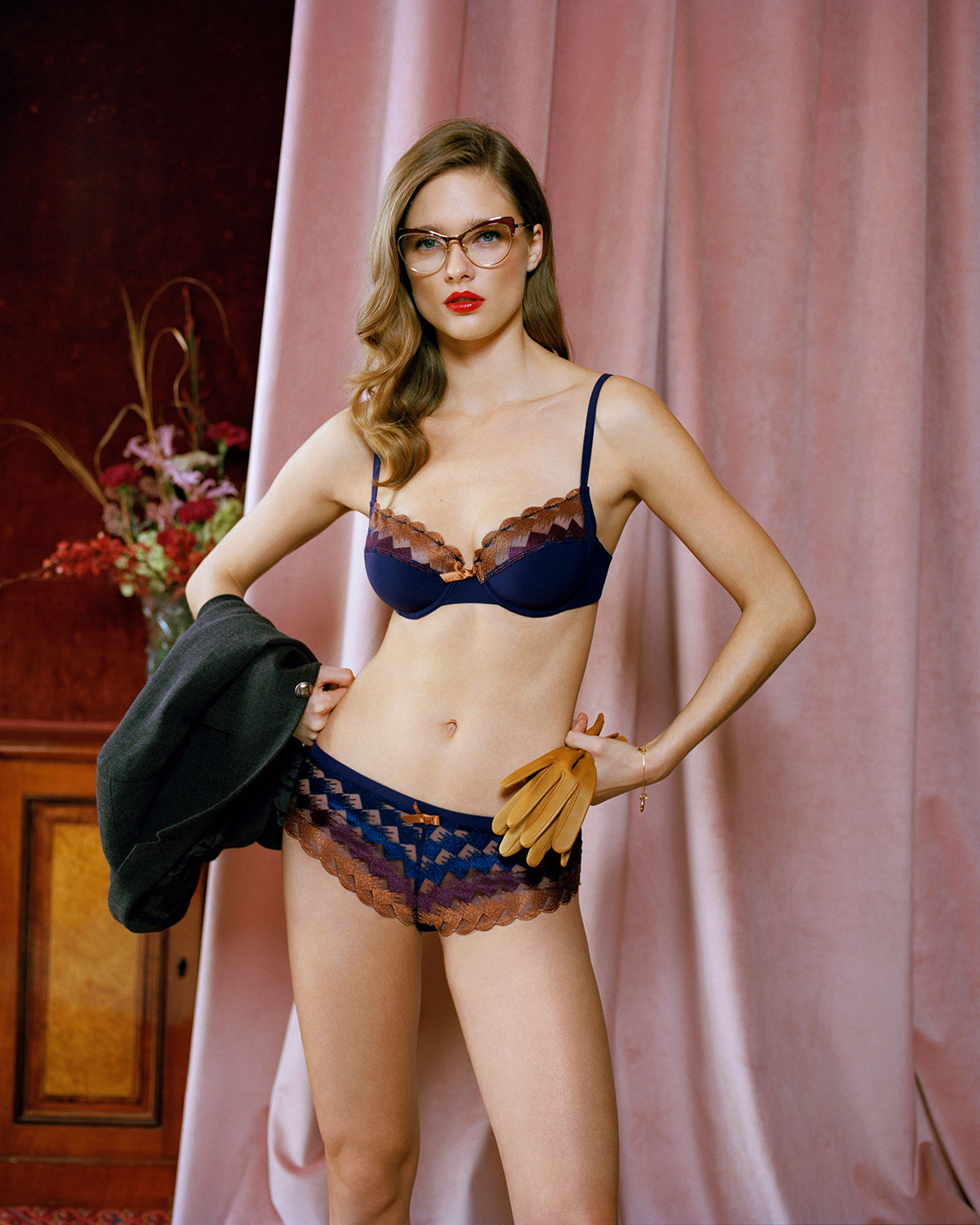 Jeux de Dame by Lou Lingerie, a stunning multi-colored embroidery for this lingerie set almost as unique as Phoebe Buffay.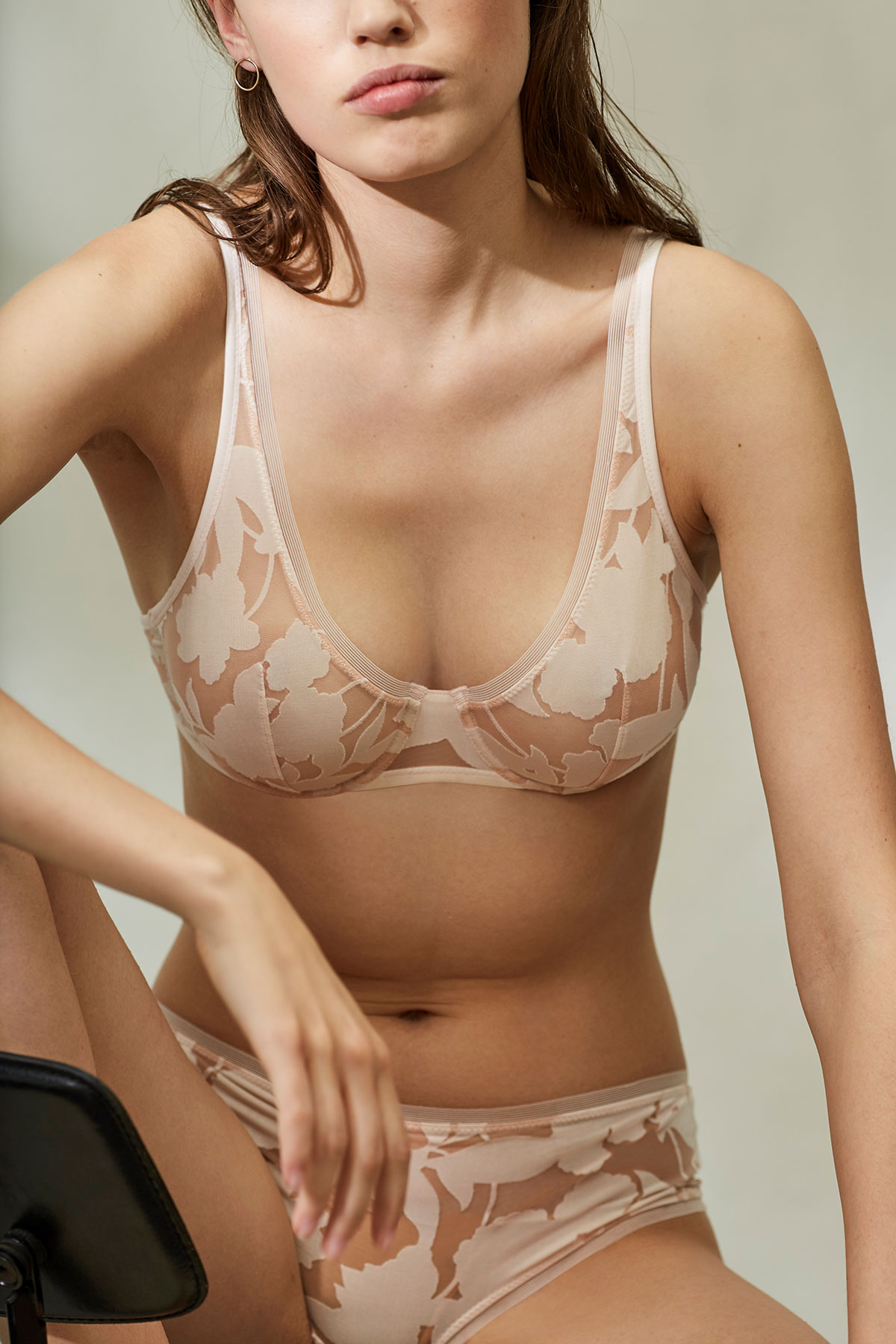 Maison Lejaby Venus second-skin lingerie set in nude. Transparency combined with a modern and sensual indented cut for divine shapes and curves.
Monica "You don't tell me what to do, I tell you what to do" Geller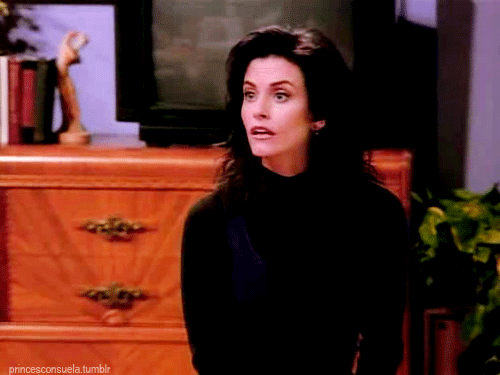 If there ever was a mother to the group of Friends, it would be Monica. The spicy brunette has her life figured out even when she doesn't. She's the trailblazer who forges the path for others, pushes them to be their best, and manages to remain likeable while offering unsolicited advice. A #lifeskill we all ought to hone in.
Forever the hostess, Monica puts her OCD tendencies to good use. She runs a tight ship, feeds the clan and keeps her home clinically tidy - barring a disaster of a secret closet because let's face it, no one's perfect, not even Monica Geller. One thing is for sure: somewhere amidst her eleven categories of towels, an unknown number of French lingerie sets lie, pristine, in the cleanest, best organized lingerie drawers of them all.
As her relationship with major fox Richard Burke (twenty-one years her senior) blossomed, Monica reached new levels of maturity. Together, they established a sultry relationship, which we can only imagine resulted in many a clothing-optional evening, and rose petals + Champagne on the regular.
We already knew Monica could command a room. But if she can also command a man like Richard, then she deserves French lingerie that's fit for a queen: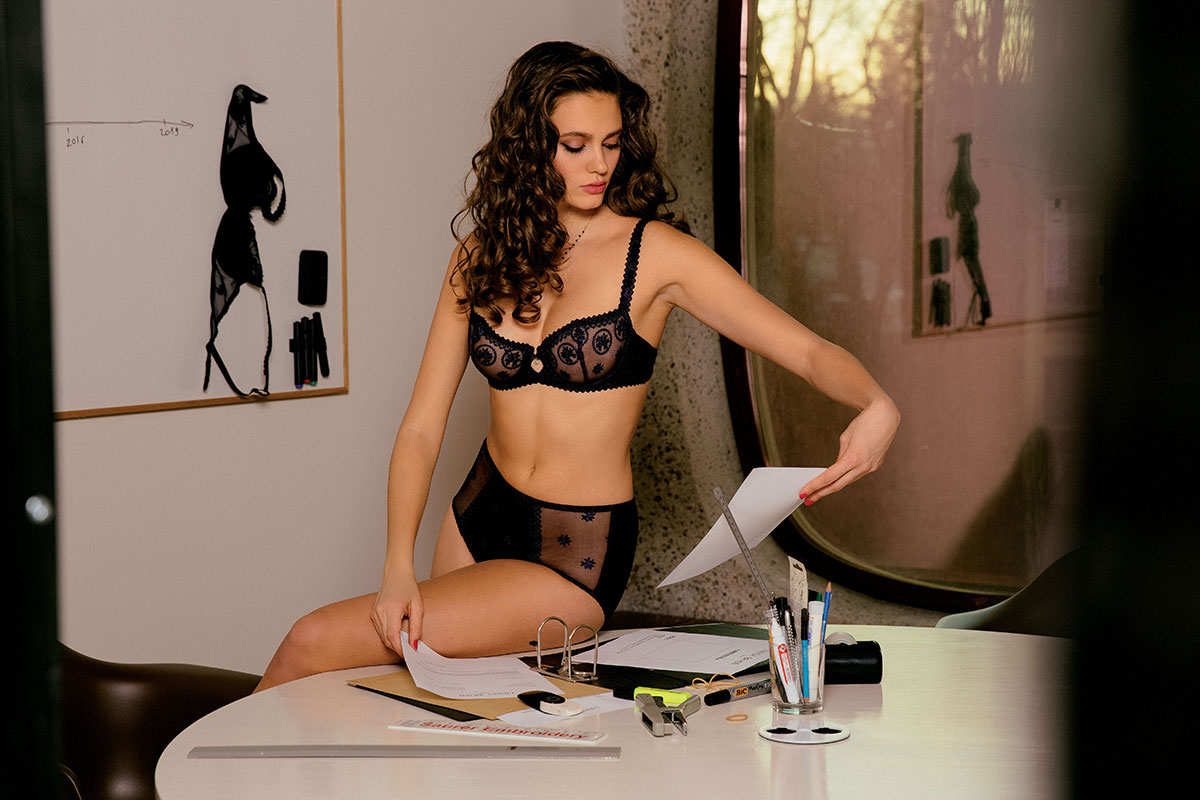 Sophistication and luxury packaged into one stunning lingerie set, by high-end and embroidery designer Louisa Bracq.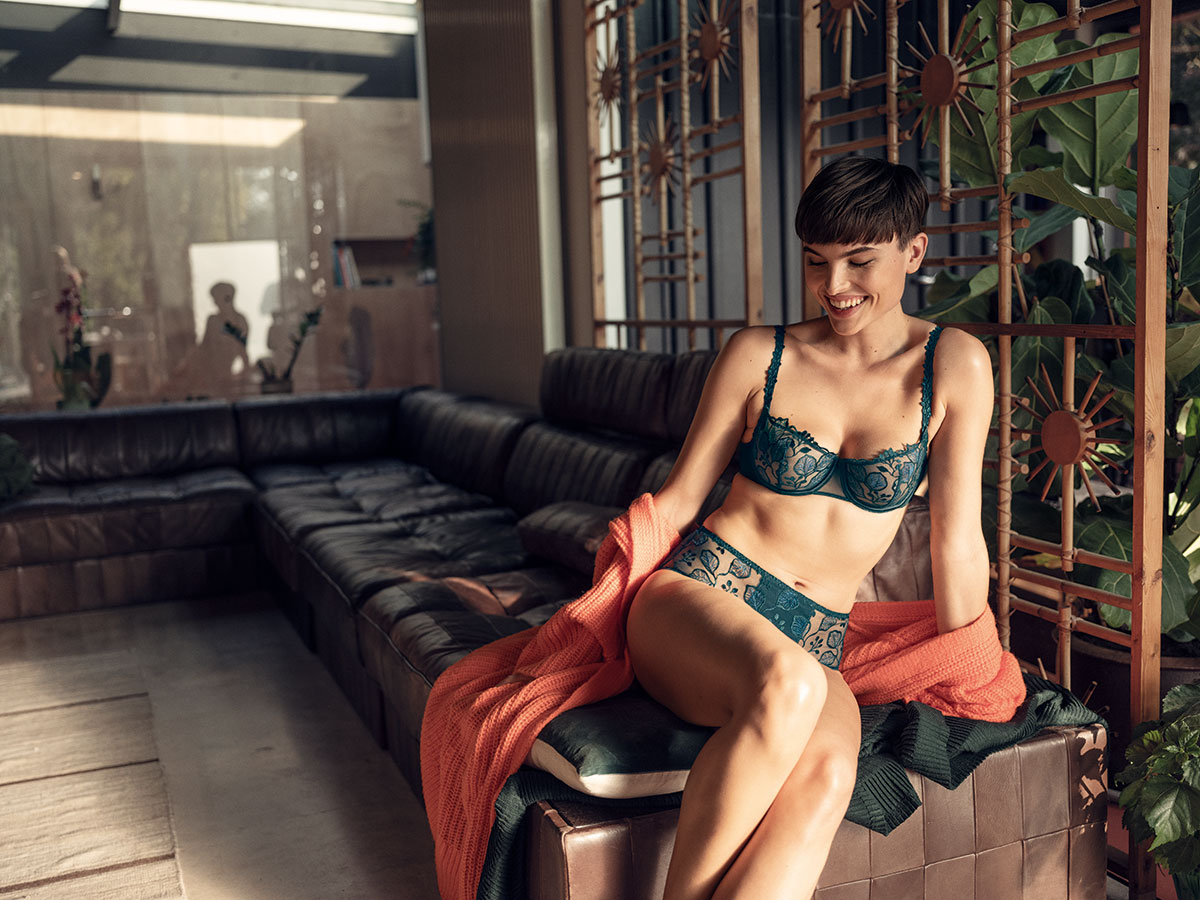 High-quality standards, creative designs, attention to detail, delicate accents… nothing is too good for our favorite perfectionist. Here, the Lumineuse set by Simone Pérèle, shown in Peacock.
Rachel "Why does everything happen to me?" Green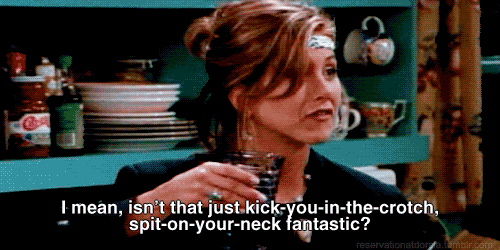 Introduced to us as a spoiled young woman who's had to work for absolutely nothing she had, Rachel evolved to become one of the most courageous characters on Friends. She clawed her way out of privilege given to her by birth to join us mere mortals into the "real world". It sucked. And she did indeed "love it".
Surrounded by her chosen family, she navigates life's ups and downs with grit and grace, and wills herself into becoming a perfectly imperfect woman we'd all be lucky to call friend. Loyal to the bone, she'll always be there in full support, ecstatic for their successes, "and not at all jealous".
Rachel knows our struggles, her struggles are ours. We see a bit (a lot) of ourselves in her. Her cooking skills are… ahem, #relatable. She drank dialed her crush while on a date with someone else (you know who you are!). And she may or may not have hired an inexperienced assistant because "He's so pretty, I want to cry" (we would have all done the same for Tag). She embodies the best and the worst of what it means to be human, and it's all so damn beautiful.
Despite the hurdles, she keeps on thrusting herself into harsh reality. She knows resilience is key. And in doubt, she wears her good lingerie not just on good days. Just in case. One never knows what might happen.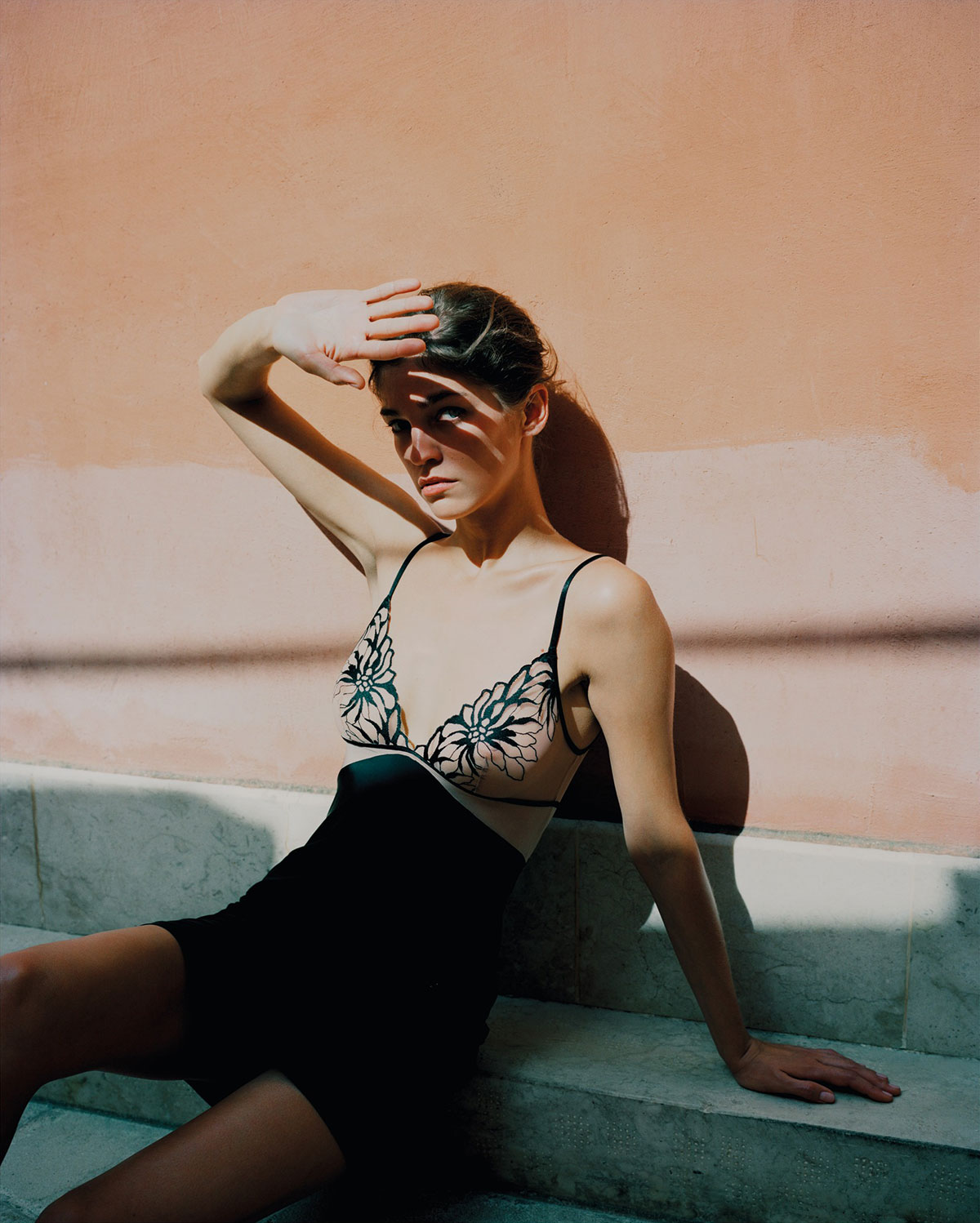 Modern and bold contrasting floral embroidery combined with everyday comfort for a gorgeous effortless look with Chantelle Shadows Babydoll.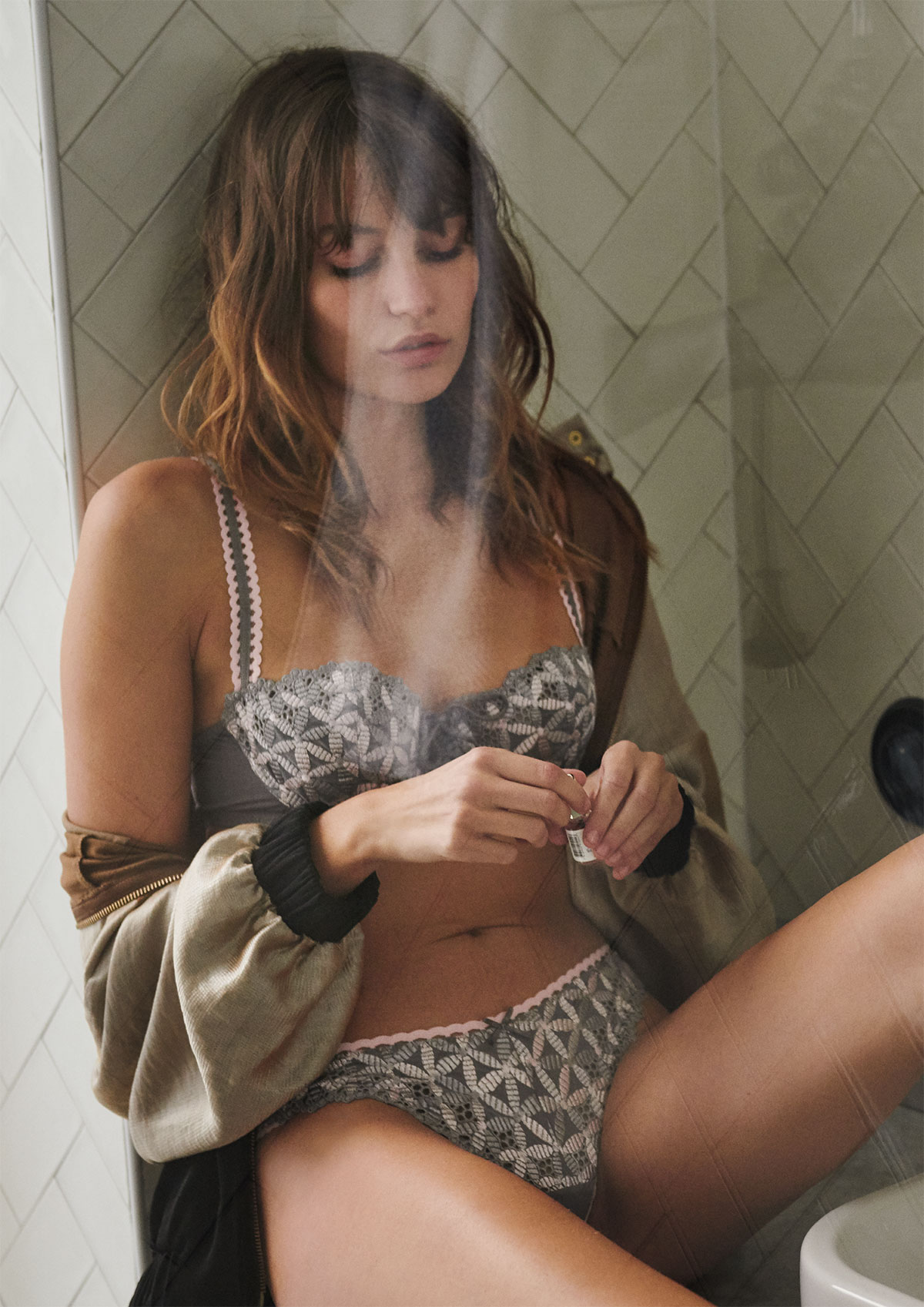 The one we imagine Rachel would have been buying by the case load had she moved to Paris. An absolute Parisian girl's classic, Aubade's Bahia, in Poeme.